Oil slipped below $53 as China warned that trade wars and populism posed "serious challenges" to the international order, countering signs that the U.S. shale boom is slowing.
Futures fell as much as 1.3 percent in New York on Wednesday after fluctuating between gains and losses early in the session. Growth in U.S. shale output is
set to fade next month, augmenting OPEC production cuts. But Chinese Vice President Wang Qishan bemoaned expanding global
risks in a speech to the World Economic Forum in Switzerland that amounted to a rebuttal of U.S. President Donald Trump.
After a
fast start to the year, crude has moved sideways for much of the last two weeks.
Forecasts for weaker growth and the U.S.-China trade dispute have capped gains, said Michael Hiley, head of OTC energy trading at LPS Futures in New York.
"With commodities, if all else is equal, price will give way to gravity," Hiley said in an interview. "Nothing's going on so things are going to sag a bit. We're kind of in neutral territory."
Production cuts by OPEC and its allies should eventually lead to a
balanced oil market in 2019, BP Plc Chief Executive Officer Bob Dudley said in an interview from the WEF in Davos, Switzerland. Still, a sharp slowdown in the world economy led by China
could weigh heavily on crude consumption, International Energy Agency Executive Director Fatih Birol said.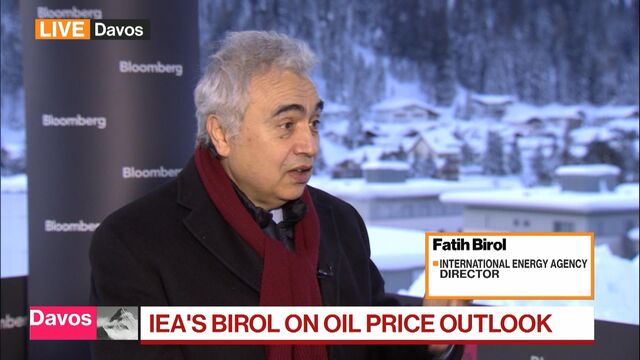 West Texas Intermediate crude for March delivery traded 55 cents lower at $52.46 a barrel at 11:45 a.m. on the New York Mercantile Exchange. The February contract expired on Tuesday after slumping 2.3 percent.
Brent for March settlement fell 72 cents to $60.78 on the London-based ICE Futures Europe exchange after shedding 2 percent on Tuesday. The global benchmark crude was at an $8.32 premium to WTI.

Also see: U.S. Shale Oil Output Growth Takes a Breather After Price Slump

Global oil demand remains on course to expand "above or around" 1 million barrels a day, but the economic outlook remains unclear, especially in China, Birol said in a Bloomberg television interview from Davos. Oil executives at the forum took a similar view.
"There's still so much uncertainty about what's going to happen with the world economy," Occidental Petroleum Corp. CEO Vicki Hollub said in a panel discussion. "The volatility I think is going to be worse over the next couple of months" before Brent crude settles in a $60- to $70-a-barrel range, she said.
Other oil-market news:
Gasoline futures lost 0.6 percent to $1.3926 a barrel in New York. 

Pierre Andurand, one of the oil market's last hedge fund managers, lost 20 percent in 2018 in his fund's first annual decline since its inception five years ago.
In their quest to make one of the most expensive methods of producing crude more profitable, 
Canada's oil-sands companies are ramping up efforts to get their bitumen to flow through pipelines more easily.
— With assistance by Tsuyoshi Inajima, and Sharon Cho
Original Source