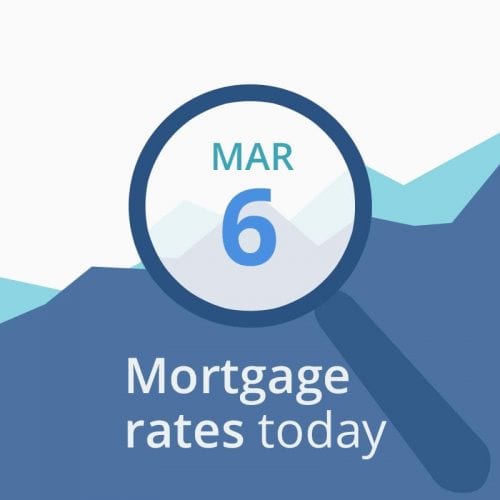 What's driving current mortgage rates?
Average mortgage rates moved down further yesterday. They're still significantly higher than they were last Tuesday, before that week's rises, but at least they've regained some ground.
Yesterday was the second consecutive day on which markets moved contrary to normal principles. Good economic data in the morning should have seen mortgage rates rise. Mortgage News Daily suggests investors are holding back on decisive moves while they wait to see if the economy "will reaccelerate or begin to show signs of weakness." Friday's employment data might give them the information they need. In the meantime, rates might continue to drift in an unpredictable way.
The data below the rate table are mostly indicative of mortgage rates being a little lower or possibly unchanged in the short-term.
» MORE: Check Today's Rates from Top Lenders (March 6, 2019)
Program
Rate
APR*
Change
Conventional 30 yr Fixed
4.667
4.678
-0.04%
Conventional 15 yr Fixed
4.208
4.227
Unchanged
Conventional 5 yr ARM
4.25
4.804
Unchanged
30 year fixed FHA
3.933
4.922
Unchanged
15 year fixed FHA
3.75
4.701
-0.06%
5 year ARM FHA
3.875
5.274
Unchanged
30 year fixed VA
3.995
4.172
Unchanged
15 year fixed VA
3.875
4.189
Unchanged
5 year ARM VA
4.063
4.552
Unchanged
Your rate might be different. Click here for a personalized rate quote. See our rate assumptions here.
Financial data affecting today's mortgage rates
First thing this morning, markets looked set to deliver slightly lower or unchanged mortgage rates today. However, with indicators constantly shifting and little clear sense of direction, that snapshot may not hold good in coming hours. By approaching 10:00 a.m. (ET), the data, compared with this time yesterday, were:
Major stock indexes were mixed soon after opening, with no sharp movements (neutral for mortgage rates)
Gold prices edged up, standing at $1,286 an ounce compared to yesterday's $1,284. As recently as last Wednesday, they were up at $1,327. (Good for mortgage rates. In general, it's better for rates when gold rises, and worse when gold falls. Gold tends to rise when investors worry about the economy. And worried investors tend to push rates lower)
Oil prices fell to $56 a barrel after sticking at $57 for several days (good for mortgage rates because energy prices play a large role in creating inflation)
The yield on ten-year Treasuries inched down to 2.71 percent from yesterday morning's 2.73 percent. Good for borrowers because mortgage rates tend to follow Treasuries
 CNNMoney's Fear & Greed Index  edged down to 65 from 66 out of a possible 100. So it remains firmly in  "greed" territory. Still, today's move is slightly better for borrowers. "Greedy" investors push bond prices down (and interest rates up) as they leave the bond market and move into stocks, while "fearful" investors do the opposite. So lower readings are better than higher ones
Unless something big intervenes during the day, it looks likely mortgage rates will be the same or a bit lower this evening.
Verify your new rate (March 6, 2019)
Rate lock recommendation
We saw three consecutive days of mortgage rate rises at the end of last week. In contrast, there have been modest falls so far this week — even though there seems to be a distinct lack of cause for those decreases.

Mortgage News Daily's theory is that investors are waiting for stronger signs of direction within the economy before acting decisively in markets. If that's correct, then Friday's official employment data might trigger significant rises or falls. But there's another consideration here.
Technical stuff
As we explain below, the consensus forecasts analysts make in advance of data releases are important. They play a big part in how markets respond to economic news. And the forecast for Friday's employment figures seems to set a very low bar. Those analysts expect nonfarm payrolls (jobs) to have increased by 178,000 in February, according to MarketWatch. Which sounds great until you realize the January increase was 304,000.
So markets might see anything close to 178,000 as a win, even though many outsiders would regard it as a disappointment. And they might respond to such mediocre news in ways that bump up mortgage rates. Of course, if the actual number is much lower than 178,000, rates could tumble. But how likely is that?
Possible falls
Don't forget there's plenty of potential for bad news in today's headlines that could send those rates back down whatever happens on Friday. As we've seen recently, US-China trade talks remain a source of concern. CNBC reported yesterday: "Market players are focused on U.S.-China trade developments with mixed messages on the progress of talks between Washington and Beijing over the last few days." It went on to mention continuing concerns, raised in a New York Times article on Monday, that the deal might "do little to address key structural issues." Meanwhile, any escalation in tensions between India and Pakistan could also trigger significant falls. Of course, a satisfactory outcome for either could push rates up.

So, on balance, we see grounds for caution. And we're continuing to suggest that you lock if you're less than 30 days from closing. Of course, financially conservative borrowers might want to lock soon, whenever they're due to close. On the other hand, risk takers might prefer to bide their time.
What's going on this morning?
ADP's employment report for February came out this morning. Although it's not as important as Friday's official figures, it's sometimes seen as a predictor of how those will turn out. So it has the potential to move markets. There was no consensus forecast but they were up 180,000 in February, a slowing in growth compared to January's 213,000.

This morning's other report concerned America's trade deficit. In spite of tariffs and trade wars, this was expected to get worse. And it did — even more than expected.

If you're still floating, do remain vigilant right up until you lock. Continue to watch key markets and news cycles closely. In particular, look out for stories that might affect the performance of the American economy. As a very general rule, good news tends to push mortgage rates up, while bad drags them down.

When to lock anyway
You may wish to lock your loan anyway if you are buying a home and have a higher debt-to-income ratio than most. Indeed, you should be more inclined to lock because any rises in rates could kill your mortgage approval. If you're refinancing, that's less critical and you may be able to gamble and float.
If your closing is weeks or months away, the decision to lock or float becomes complicated. Obviously, if you know rates are rising, you want to lock in as soon as possible. However, the longer your lock, the higher your upfront costs. On the flip side, if a higher rate would wipe out your mortgage approval, you'll probably want to lock in even if it costs more.
If you're still floating, stay in close contact with your lender, and keep an eye on markets. I recommend:
LOCK

if closing in

7

days

LOCK

if closing in

15

days

LOCK

 if closing in

30

days

FLOAT

if closing in

45

days

FLOAT

 if closing in

60

days
» MORE: Show Me Today's Rates (March 6, 2019)
This week
There are fewer items on this week's economic calendar than last. However, employment data, out on Friday, are always capable of moving markets. Other outcomes are more likely to fuel or slow existing market momentum (if any builds) than generate much of their own. However, any report can be disruptive if it contains sufficiently shocking results — whether good or bad.
Markets tend to price in analysts' consensus forecasts (we use those reported by MarketWatch) in advance of the publication of reports. So it's usually the difference between the actual reported numbers and the forecast that has the greatest effect. That means even an extreme difference between actuals for the previous reporting period and this one can have little immediate impact, providing that difference is expected and has been factored in ahead.
Monday: December construction spending (actual -0.6 percent; forecast +0.3 percent)
Tuesday: December new home sales  were much better than expected (actual 621,000 units; forecast 576.000 units) and February's ISM non-manufacturing index for business activity was also better (actual 59.7 percent; forecast 57.4 percent) from the Institute for Supply Management
Wednesday: December's trade balance (actual -$59.8 billion; forecast -$57.8 billion). ADP employment figures (+180,000 jobs in February; no forecast but January was +213,000) can also be important as a predictor of how Friday's official payroll figures will turn out

Thursday: weekly jobless claims (224,000 forecast), productivity for for Q4 2018 (forecast +1.7 percent)

Friday: official employment data for February, including nonfarm payrolls (forecast +178,000) and average hourly earnings (forecast +0.3 percent). Plus January housing starts (forecast: 1.222 million annualized)
MarketWatch's economic calendar remains slightly chaotic in the wake of the recent government shutdown. Some numbers published this week are for earlier periods than would normally be the case, and others are still being delayed.
What causes rates to rise and fall?
Mortgage interest rates depend a great deal on the expectations of investors. Good economic news tends to be bad for interest rates because an active economy raises concerns about inflation. Inflation causes fixed-income investments like bonds to lose value, and that causes their yields (another way of saying interest rates) to increase.
For example, suppose that two years ago, you bought a $1,000 bond paying 5 percent interest ($50) each year. (This is called its "coupon rate" or "par rate" because you paid $1,000 for a $1,000 bond, and because its interest rate equals the rate stated on the bond — in this case, 5 percent).
Your interest rate: $50 annual interest / $1,000 = 5.0%
When rates fall
That's a pretty good rate today, so lots of investors want to buy it from you. You can sell your $1,000 bond for $1,200. The buyer gets the same $50 a year in interest that you were getting. It's still 5 percent of the $1,000 coupon. However, because he paid more for the bond, his return is lower.
Your buyer's interest rate: $50 annual interest / $1,200 = 4.2%
The buyer gets an interest rate, or yield, of only 4.2 percent. And that's why, when demand for bonds increases and bond prices go up, interest rates go down.
When rates rise
However, when the economy heats up, the potential for inflation makes bonds less appealing. With fewer people wanting to buy bonds, their prices decrease, and then interest rates go up.
Imagine that you have your $1,000 bond, but you can't sell it for $1,000 because unemployment has dropped and stock prices are soaring. You end up getting $700. The buyer gets the same $50 a year in interest, but the yield looks like this:
$50 annual interest / $700 = 7.1%
The buyer's interest rate is now slightly more than seven percent. Interest rates and yields are not mysterious. You calculate them with simple math.
Show Me Today's Rates (March 6, 2019)
Mortgage rate methodology
The Mortgage Reports receives rates based on selected criteria from multiple lending partners each day. We arrive at an average rate and APR for each loan type to display in our chart. Because we average an array of rates, it gives you a better idea of what you might find in the marketplace. Furthermore, we average rates for the same loan types. For example, FHA fixed with FHA fixed. The end result is a good snapshot of daily rates and how they change over time.
Original Source