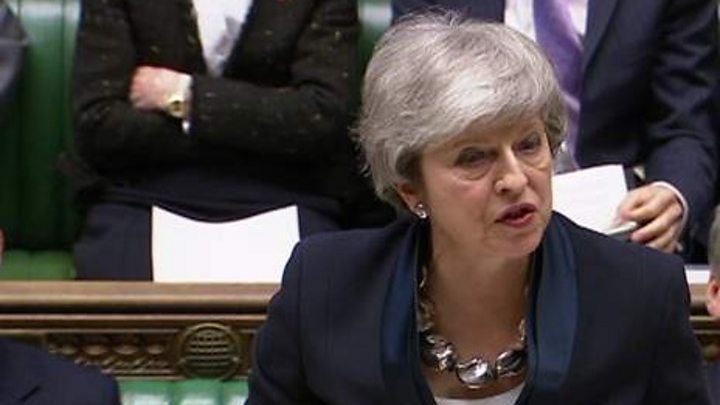 Theresa May has promised MPs a vote on delaying the UK's departure from the EU or ruling out a no-deal Brexit, if they reject her deal next month.
Mrs May made a statement to MPs about Brexit on Tuesday, amid the threat of a revolt by Remain-supporting ministers.
The prime minister promised MPs a meaningful vote on her Brexit deal by 12 March.
Labour leader Jeremy Corbyn accused the prime minister of trying to "string" the Brexit process out.
The prime minister said she will put her withdrawal agreement – including any changes she has agreed with the EU – to a meaningful vote by 12 March.
If that fails, MPs will be offered two separate votes:
One, on the following day, on whether MPs support a no-deal Brexit – so the UK would "only leave without a deal on 29 March if there is explicit consent in the House for that outcome"
If that fails, then MPs will get a vote by 14 March on requesting an extension to the two-year Article 50 negotiation process to delay EU withdrawal beyond 29 March
"Let me be clear, I do not want to see Article 50 extended," she told MPs.
"Our absolute focus should be on working to get a deal and leaving on 29 March.
"An extension beyond the end of June would mean the UK taking part in the European Parliament elections. What kind of message would that send to the more than 17 million people who voted to leave the EU nearly three years ago now?
"And the House should be clear that a short extension – not beyond the end of June – would almost certainly have to be a one-off."
But the SNP's Westminster leader Ian Blackford said she "could not be trusted" not to "dodge" another meaningful vote.
He said: "It's the height of irresponsibility for any government to threaten its citizens with these consequences. Rule out no deal, extend Article 50, but do it today – this should not be left until the middle of March."
But Mrs May surprised the House by quoting a TV advert in her response: "If he wants to end the uncertainty and deal with the issues he raised…then he should vote for a deal. Simples."
---
A significant tactical retreat
By the BBC's deputy political editor John Pienaar
Theresa May's big concession – and it was a significant tactical retreat – was about buying herself more time.
So now, under the threat of maybe 15 to 20 ministers rebelling, the prime minister's promised MPs an opportunity next month to rule out a no-deal Brexit, and force a "limited" delay in leaving the EU.
Without that promise, there's every chance those unhappy ministers would have joined other MPs in voting to rule out no-deal and delay Brexit anyway.
She did not offer ministers freedom to vote as they choose. So now the (potential) rebels must decide whether to hold fire for a fortnight, while she tries to get terms in Brussels she can sell to the Commons – hoping Brexiteers ultimately back her deal as the best Brexit available.
Call it "running down the clock", or "kicking the can down the road", if you like.
But kicking and running has been Mrs May's best hope for months.
---
Mrs May said an extension "cannot take no deal off the table", adding: "The only way to do that is to revoke Article 50, which I shall not do, or agree a deal."
Extending Article 50 would require the unanimous backing of the other 27 EU member states and, she said, she had not had conversations about it with them.
The sequence of votes will be proposed on Wednesday in an amendable motion for MPs to debate and vote on.
Mrs May repeatedly declined to say whether she would vote against a no-deal Brexit, and whether Tory MPs would be whipped to vote for or against it.
The move is an attempt to avoid a defeat for the government on Wednesday, which could see MPs taking control of the Brexit process.
Will Tory rebels accept May's offer?
Several Remain-backing ministers were threatening to resign, so that they could vote for a cross-party amendment aimed at ruling out a no-deal Brexit.
One of them, Business Minister Richard Harrington, said: "I'm satisfied because for the first time she has acknowledged in a statement that Parliament will be allowed to vote on ruling out no deal, which, of course, it overwhelmingly will."
He told BBC Radio 4's The World at One that "a lot depends on the detail" and he was awaiting a briefing from Tory Sir Oliver Letwin, one of the architects of the cross-party amendment.
"If they are satisfied that the effect is the same, then for me that is good enough," he said.
Other rebels have yet to comment.
But opponents of Mrs May who support another EU referendum said she had still not ruled out a no-deal Brexit.
The Independent Group's Anna Soubry, who quit the Conservatives in protest at their Brexit policy, said it was a "shameful moment" and "nothing has changed".
Conservative and former attorney general Dominic Grieve accused the PM of "browbeating" MPs to accept a "second-rate" deal which had been decisively rejected once and was likely to be done so again.
"If this is to continue, how are we to break the logjam?" he asked.
What about Tory Brexiteers?
Brexiteer and former Cabinet minister Theresa Villiers said: "It's frustrating that the prime minister is partially backtracking on her repeated statements that we would leave on 29 March.
"But fundamentally it doesn't change the challenge that she has – she needs to get changes to the withdrawal treaty before it is capable of commanding support in Parliament."
It was a point echoed by former Conservative leader Iain Duncan Smith, but he added that he welcomed the PM's statement, and it was "clearly right that we want to have a deal".
But other Brexiteers warned extending Article 50 could undermine the UK's negotiating position in Brussels.
Labour's reaction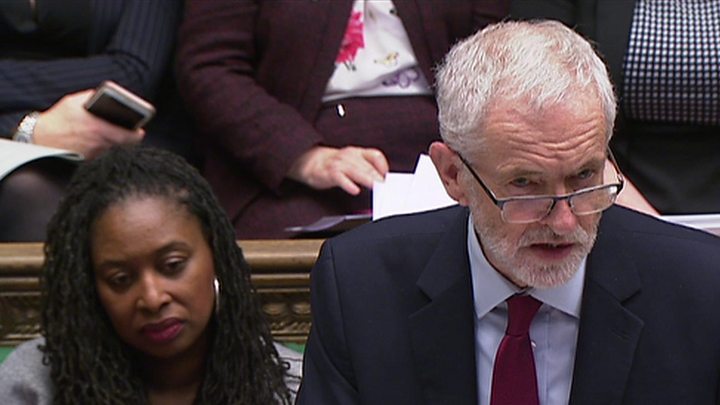 Jeremy Corbyn said he had "lost count" of the prime minister's explanations for her "grotesquely reckless" Brexit delays.
"The prime minister continues to say it is her deal or no deal, but this House has decisively rejected her deal and has clearly rejected no deal," he told MPs.
"It is the prime minister's obstinacy that is blocking a resolution."
Mr Corbyn says Labour will get behind another EU referendum if the party can't get its own Brexit proposals through Parliament on Wednesday.
If Mrs May's Brexit deal gets through Parliament next month, Labour wants it to be put to a public vote – with remaining in the EU as the other option.
Brexit impact papers published
Separately, Mrs May said the government was publishing a paper assessing its readiness for a no-deal Brexit and the "very serious challenges" it would pose.
"I believe that if we have to, we will ultimately make a success of a no-deal," she said.
"But this paper provides an honest assessment of the very serious challenges it would bring in the short-term and further reinforces why the best way for this House to honour the referendum result is to leave with a deal."
Original Source